Odoo PLM
If your business uses SolidWorks or ThinkDesign computer aided design (CAD) software and you require Product Lifecycle (PLM) or Revision Management capabilities, Omnia Solutions has a perfect solution that seamlessly integrates with Odoo, today's leading open source ERP software.
Odoo PLM is an open source PLM module for Odoo that integrates with SolidWorks or ThinkDesign CAD software to add robust features such as Product Lifecycle & Revision Management, Bill of Materials (BOM) Management, Spare Parts Management, Global Product Development, and Advanced Document Management including vaulting & record locking.
The Odoo PLM module reads all document data, parts data, BOM relationships, CAD file relationships, groups, and labels from SolidWorks or ThinkDesign, and transfers that data directly into Odoo.
One of the great features of Odoo PLM is that your design team doesn't need to learn a new application. They just need to learn a few easy buttons on a toolbar and some menu commands inside the CAD application they're already using:

With the addition of the Odoo PLM toolbar and menu, the following commands may be executed:
About
Log-in
Check-In current document
Recursive Check-In from current document
Check-Out current document
Save into Odoo PLM
Edit part data
Assign document data
Open document by document search
Import document by document search
Open document by document search
Import by document search
Clone current document
Revision current document
Document comment
Purge Working Area
The following graphic illustrates an import of a CAD drawing stored in Odoo into the CAD system by searching for a document:

CAD drawings may also be opened/imported from Odoo by searching for a specific part giving a very powerful view of exactly where and how a part is used: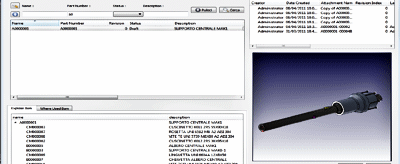 When a document is "checked-out", it can be done with the option of "locking" the drawing so no one else can make changes to the document while it is being edited. And, attached to the drawing is a Parts Data screen that allows the input of additional information about the part. The data fields contained in the Parts Data screen may be customized, as needed, to suit the individual needs of each business: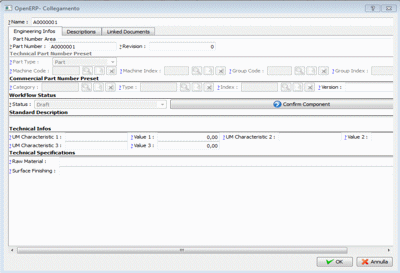 Once saved in the CAD system, the drawing and all parts data are also exported and saved in Odoo where it becomes available for advanced reporting within the ERP system, and, the CAD image is visible within Odoo: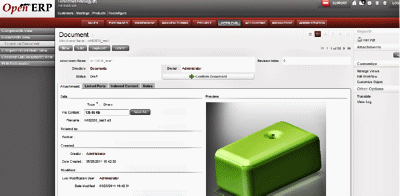 For more information on Odoo or CYOP's open source ERP solutions, please contact us or signup for a FREE Business Process Assessment.